Breast Augmentation in Reno
If your breasts are not in the desired shape or size that you would like, a breast augmentation surgery in Reno may be the solution. Reno is an excellent place to consider breast augmentation. Dr. Kiener is a Board Certified Plastic Surgeons and has extensive experience in breast augmentation procedures, striving to give his patients the confidence they need. This type of procedure will help you get the defined look and shape that you desire and help you feel more comfortable with your body. If breast augmentation is part of your plan for self-care, Dr. Kiener is the clear choice.
About The Procedure
Breast Augmentation in Reno is a popular procedure performed to enhance breast size, shape, and projection. It can also improve breast symmetry in cases where breast size is already asymmetrical. The procedure is performed by a qualified Reno plastic surgeon, who will choose the appropriate implants and surgical techniques needed to create the desired breast contours and proportions. The procedure is typically done under general anesthesia and involves making incisions around the areola or breast crease line before the implant is inserted into position behind the breast tissue itself. Recovery times vary, but breast augmentation reno procedures can generally result in a dramatic increase in both breast volume and body confidence for those who undergo it.Here are 5 main reasons people choose to have breast augmentation in Reno:
Who Would Benefit?
For over 20 years, Dr. Kiener has been serving women with breast augmentation in Reno and surrounding areas. Breast augmentation in Reno presents an opportunity to improve self-confidence and body image. This form of breast surgery helps individuals looking for a physical transformation that can benefit many areas of their lives. With breast augmentation, patients have the opportunity to get fuller and shapelier breasts to feel more comfortable in their bodies or to correct breast asymmetry issues. Many people also find that breast augmentation helps them when it comes to clothing fit and styling options, further contributing to improved confidence and self-esteem. Patients who have breast augmentations generally report feeling more content with the look and feel of their chests which ultimately affects other aspects of their life in a positive way. A Reno breast augmentation procedure can truly enhance one's life beyond just aesthetics, making it accessible to anyone seeking a boost in confidence.
To Add Volume and Curves
Even Out Naturally Asymmetrical Breasts
Restore Breasts After Pregnancy and Aging
Rebuild Breast After Mastectomy
Increase Self-Confidence
Breast Augmentation Procedure
Breast augmentation in Reno is usually performed under general anesthesia. Implants may be placed under or over the pectoralis major muscle. The long term benefits of under the muscle placement, such as decreased capsular contracture, less interference with mammography, smoother transition from breast to chest and fewer issues with rippling make it my primary choice for implant placement. Insertion is done through an armpit, areola, or under the breast incision. The armpit incision is my preferred insertion route with nearly imperceptible scars, but I have extensive experience with all routes of insertion. With the armpit incision technique I routinely use an endoscope and Keller funnel for precision and ease of implant insertion The implants may be either saline or silicone gel with most patients opting for gel due to the more natural feel and less issues with visible implant rippling. Implants may also be teardrop shaped however problems with rotation, producing an unnatural appearance, make them a secondary choice compared to round implants. The choice of implant type , placement and route of insertion remains the choice of the patient. Procedure time is usually 1 hour. Sutures may or not be dissolvable. If not suture removal is at 6 days following the procedure.
Recovery
Discomfort in the first days following the surgery may be significant, but by a week most patient are returning to normal activities with the exception of those involving strenuous upper extremity. Unrestricted activities are usually achieved by 3 weeks. Dr. Kiener, a qualified breast augmentation surgeon, is avaialable for consultations and to answer any questions.
Breast Lift/Mastopexy in Reno
About The Procedure
A breast lift in Reno, also known as a mastopexy, can be a great solution for those who have sagging or otherwise misshapen breasts. An experienced plastic surgeon can correct physical issues caused by aging, genetics or other factors while restoring the breast area to look more youthful and attractive. This procedure involves the surgical removal of excess skin and breast tissue before lifting and reshaping the breast's contour. Once completed, the chest area is redefines, providing an aesthetic look that many proudly wear. Women considering breast lift surgery should consult responsible, reputable surgeons to help them make an informed decision that best fits their individual needs and desired results..
Who Would Benefit?
Patients who will benefit from a breast lift are women who either have congenitally droopy breasts or those who have developed droopiness following child bearing. The ideal candidate still has adequate breast volume, but if not an implant may be placed at the same time.
The Procedure
The procedure is usually performed under general anesthesia. Breast lifts require incisions on the breast to reshape the skin envelope as well as lift the nipple. Incision patterns are described as a donut, incision limited to around the areola, lollipop, incision around the areola and extending inferiorly, and anchor, incision around the areola, inferiorly with a transverse component. The incision pattern is dictated by the degree of nipple descent as well as the discrepancy between breast skin envelope and volume. Re-positioning and reshaping the breast tissue can be performed in a number of ways. Because of the incisions around the areola the chance of nipple sensory disturbance is increased relative to breast augmentation. Procedure time is typically 2 to 3 hours. Sutures are beneath the skin and dissolve.
Recovery
Patients may return to light physical activity within a week and unrestricted activities at 3 to 4 weeks. Also, patients may utilize pain medications as necessary for many plastic surgery procedures. To find out if you are a good candidate for a mastopexy procedure/breast lift procedure, call Dr. Kiener, a top board certified plastic surgeon, to schedule a consultation today.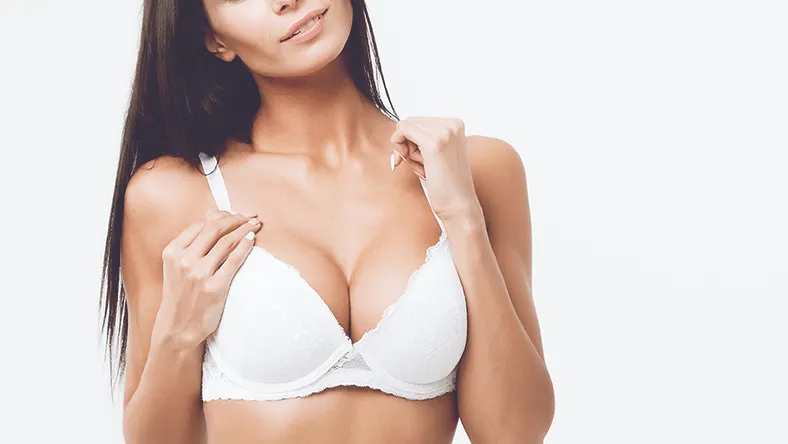 If you have felt that your breasts are sagging or do not look or feel as "perky" as you would like. We invite you to contact our office today to schedule a personalized consultation with Dr. Kiener to determine if you are a good candidate for a breast lift. Call 775-825-1234 today.